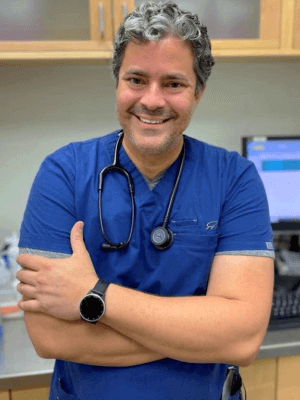 Dr. Orlando Diaz DVM, CEO
Bio coming soon.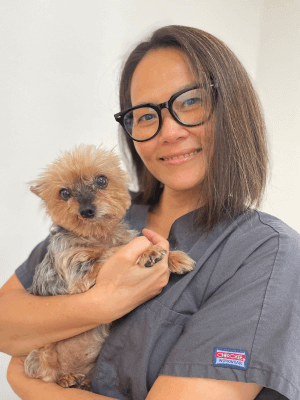 Dr. Naomi Ueda DVM, Associate Veterinarian
Dr. Ueda grew up in Queens, New York, and realized she had a natural instinct for caring for animals, sensing their innate intelligence and loving nature. She graduated from Ross University School of Veterinary Medicine in 2001.
Her menagerie of five rescues comprises three cats and two dogs. Cat Dizzy has a head tilt, Petunia (aka Sourpuss) was saved from abuse but remains weary of humans, and Shtinky was a stray she fed under her porch. Monchichi, a Havanese, and Teacup Yorkie, Chickpea round out the pack.
In her free time, she travels to experience and learn from different cultures, most recently the Galapagos Island. The best adventures are spontaneous road trips just to see where she ends up. She also enjoys dinner outings with good food and great friends, but is happy to binge watch a compelling series or documentary.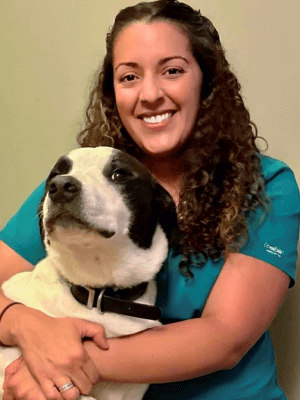 Dr. Dinah Russell DVM, Associate Veterinarian
Dr. Russell grew up in Queens, New York, and her love for animals since she was a child drove her to become a veterinarian. She graduated from the University of Guelph and Ontario Veterinary College in Canada and happily received her license in 2012.
After working in the veterinary field for a while, Dr. Russell became an associate veterinarian at Williamsburg Animal Clinic in 2013. She left for a brief stint in Maine, then returned to New York and rejoined our team in 2019.
Her oldest pet is Millie, a 15-year-old Dachshund who is spunky, sassy, a foodie and has recently retired from hiking. August is a 6-year-old Border collie/Staffordshire terrier mix who is energetic, friendly, loves hiking, road trips, long walks and snuggling.
Dr. Russell enjoys spending her free time with her family and pets, and she and her husband take their children traveling, hiking and exploring. They also enjoy baking and listening to music.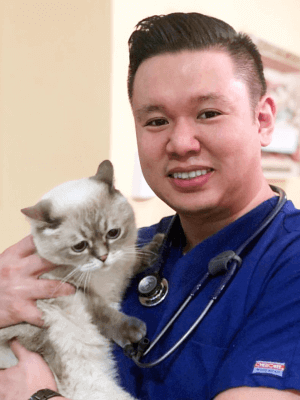 Dr. Jonathan Perez DVM, Associate Veterinarian
Dr. Perez was born in Brooklyn, but grew up in Queens, New York. The son of a veterinarian, as a child he knew he wanted to become a veterinarian too. He remembers watching his father studying to get his veterinary license, and he saw that treating animals was enjoyable and engaging work. He earned a bachelor's in animal science degree from Cornell University, then studied at the University of the Philippines: Los Banos Veterinary School. He spent a year of clinical rotations focusing on small and large animal medicine in Urbana-Champaign at the University of Illinois College of Veterinary Medicine and then transitioned into private practice.
He practiced at clinics in Long Island, Astoria and Manhattan for about five years, then sought a clinic more aligned with his values. Dr. Diaz recruited him, and he now practices full time at Williamsburg Animal Clinic.
He has four cats: his oldest pet, Mochiiro, is a Ragdoll cat he raised since veterinary school; and Momo, Mori and Monet, domestic shorthair cats who were either strays or abandoned at his previous practices. Luckily, they all get along!
In his free time, Dr. Perez likes to explore new places, like restaurants and cafes. A coffee-lover, he is always looking for the best cup of joe and trying different types of espresso. He is also a board game enthusiast and likes to host game nights. Plus, he enjoys watching TV, playing video games and hanging out with his wife, family, friends and cats.